This article looks at the average cost of bidets on the market these days. From electric to non-electric, this article has you covered. Besides the features you're looking for, price is another detail to consider when choosing which bidet is right for you.
Should you go with one of the early models that shoot cold water, or the Cadillac version with a dryer and heated seat? There are so many features these days and some are more important than others.
There are several types of bidets on the market, each with its own benefits and drawbacks. And, as you'd imagine, the prices can range a lot—anywhere from under $100 to several thousand depending on what features are included.
How Much Do Bidets Cost?
Bidets cost between $30 and $5000. A good non-electric bidet attachment averages $45 while the typical price for a bidet-toilet combo (the most expensive bidet) is $1,300. The average electric seat and handheld sprayer costs $330 and $40, respectively.
A good European bidet (the standalone kind) is usually between $250 and $400 depending on the brand and whether the washbasin has a vertical spray.
The wide price range has to do with how the word "bidet" is used to describe anything from a squeeze bottle to a crazy high-end toilet with NASA technology.
For a quick rundown of the price ranges you'll often encounter in popular retailers, check out the comprehensive table below.
Average Bidet Cost
In getting these prices I looked at dozens of models of each type of bidet at several major retailers.
Standalone

Modern
Other
Home
Depot
Horizontal: $194.01
Spray

Vertical: $448.73
Spray
Attachment: $47.85

Seat: $482.70

Toilet: $1,559.29
Handheld: $45.04

Portable: $30.24
Lowe's
Horizontal: $211.19

Vertical: $454.02
Attachment: $47.37

Seat: $272.82

Toilet: $1,431.62
Handheld: $56.06

Portable: $62.49
Wayfair
Horizontal: $369.70

Vertical: $549.96
Attachment: $47.79

Seat: $365.26

Toilet: $1,327.05
Handheld: $48.67

Portable: $29.48
Amazon
Horizontal: $207.81

Vertical: $460.20
Attachment: $42.71

Seat: $274.10

Toilet: $1,204.21
Handheld: $25.89

Portable: $25.23
Walmart
Horizontal: $267.86

Vertical: $481.94
Attachment: $36.42

Seat: $264.15

Toilet: 1,346.51
Handheld: $21.96

Portable: $17.16
Average
Horizontal: $250.11

Vertical: $478.97
Attachment: $44.43

Seat: $331.81

Toilet: $1,373.74
Handheld: $39.52

Portable: $32.92
If there's any confusion as to the types of bidets referred to in the table, check out the sections below on each type where I've added pictures.
*Because Costco and Sam's Club are owned by Wal-Mart, there's no significant difference between prices at the three chains.
Keep in mind that when a retailer has a higher average price it could be because they had fewer cheap models overall. For example, Walmart has a lot of cheap squeeze bottle travel bidets which drove the average price down for that category.
I found that Wayfair had the widest selection overall, with Amazon as a close second.
In case you're new to the subject, there's a quick description of the different types of bidets along with the average cost of each type.
How Much Does a Bidet Toilet Seat Cost?
Electric bidet seats range from $170 to over $1000 with the average being $330. A good model can be found for $200-300. The price depends on which features are included (e.g. continuous warm water) and the quality of parts. Non-electric seats average $100.
This is the most popular type of bidet. It gives you all the features folks have come to expect from electric models but at a fraction of the price that it takes to get an entirely new fancy smart toilet with a built-in bidet.
Bidet seats replace the seat and lid on your current toilet so they're among the easy-to-install bidets that can be used in rental properties.
Quality is a factor. Bio Bidet puts out a model (the Slim ONE) for $199 that includes most of the features offered by electric bidets (minus the dryer) but some claim the parts are cheap.
I've read through a lot of customer feedback, and while it's a good one, it doesn't seem to be as durable or leak-resistant compared to other more expensive models put out by the same brand.
If you want your bidet to last, make sure to read product reviews to see which models are prone to leaking and wearing out early.
Here are 10 examples:
Slim Series Electric Smart Bidet Toilet Seat: $169.49 to $199
Smart Bidet Electric Seat for Elongated Toilets in White: $249.99
TOTO A100 WASHLET Electric Bidet Seat: $273.73
TOTO C200 WASHLET Electric Bidet Seat for Elongated Toilet: $429.00
Bio Bidet Supreme Electric Bidet Seat: $449.00
Novita Electric Bidet Seat with Remote Control: $550
Swash 1400 Luxury Electric Bidet Seat: $551.65
Bliss Electric Bidet Seat: $699.00
TOTO S300e WASHLET Electric Bidet Seat: $858.00
TOTO Luxury S500e WASHLET Electric Bidet Seat: $1071.00
Keep in mind, prices are always changing, but this will give you an idea of what I encountered when researching.
A good rundown of the best bidets for elongated toilets can be found here.
How Much Do Bidet Attachments Cost?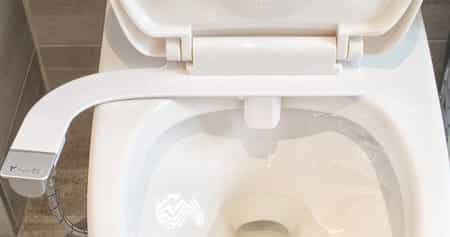 The average price for a bidet attachment is about $45. Some are as low as $25 and the more expensive models can be as high as $90. The variance in price has more to do with the quality of materials used than the differences in features offered. A high-quality bidet attachment is about $80.
Like bidet seats, attachments are fixed to your current toilet, but they do not replace the existing seat/lid. Instead, they're installed right beneath the seat.
The main difference is that attachments are always non-electric (some bidet seats are non-electric but they're not as common).
They work strictly off of water pressure so there's no drying function, warm water, etc. They lack most features of modern-day bidets, but they're automatic unlike their non-electric cousins, the handheld sprayers. With the right setup, bidet attachments can cleanse with warm water.
When it comes to electric seats and bidet-toilet combos, there are diminishing returns after a few hundred dollars and most are made with high-quality materials.
Non-electric bidets tend to be cheap both in price and quality and the less expensive models are notorious for leaking.
The exception might be Bio Bidet which puts out some good models for $35. If you can swing a bit more, I like and recommend the Tushy Classic.
Here are 10 examples:
Easy Breezy Non-electric Bidet Attachment in White: $24.99
Slim Edge Non-Electric Bidet Attachment System: $34.99
Bio Bidet Non-Electric Attachable Bidet: $34.99
EVEKARE Non-Electric Cold Water ABS Bidet Attachment for Round Toilet: $35.34
Smart Bidet Attachment w/Dual Nozzle (Posterior and Feminine Wash): $44.99
eModernDecor Dual Nozzles Solid Brass Adapter and Seat Bumper: $49.43
LUXE Bidet Neo 320 – Self Cleaning Dual Nozzle -Bidet: $49.91
Boss Bidet Non-Electric Luxury Toilet Bidet: $62.99
Eco-Splash Bidet Premium Attachment, Self-Cleaning w/Dual Nozzle, Hot and Cold Water: $69.95
TUSHY Classic Bidet Toilet Seat Attachment: $79.00
How Much Do Bidet Toilets Cost? (Bidet-Toilet Combos)
The average bidet-toilet combo costs $1,373. You can find a new unit for as low as $800 (the price of a high-end bidet seat) and as high as $4,000 or more. The price varies depending on the brand, quality of construction, and features offered.
As you'd imagine, this is the most expensive type of bidet, since you're paying for the entire commode. They're also the least practical because most properties have pre-existing toilets so they're really only relevant for renovations and newly built homes.
Some of these high-tech toilets can do everything but sit up and bark. But, most of the features you're likely to be interested in can be found in a reasonably priced model.
If you're going to go all out and purchase a bidet toilet then you'll probably want to go with one having the best warranty.
Here are price 10 examples of bidet-toilet combos:
Woodbridge Bath Luxury One Piece Toilet: $791.22
Marsala 1-Piece Dual Flush Toilet w/ Advance Smart Washlet Bidet: $899.99
Revel 1-Piece Dual Flush Toilet w/ Advance Smart Washlet Bidet: $939.99
Athena Intelligent 1-Piece Dual Flush Toilet w/Bidet: $1079.64
Venezia Intelligent Comfort Height 1-Piece w/Bidet Seat: $1179.00
OVE Decors Tuva White Touchless Flush Toilet w/ Bidet: $1299.00
Muse iWash 1-Piece Toilet and Bidet in White: $2236.50
TOTO G400 Dual-Flush Bidet Toilet: $2359.00
KOHLER Karing WaterSense Toilet w/ Bidet: $2430.66
TOTO Neorest 550H 1-Piece GPF Dual Flush Toilet w/Bidet: $4025.00
Keep in mind that some brand new toilets are sold with fancy bidet seats. They tend to be cheaper but these are not true toilet-bidet combos. You just get a nice one- or two-piece flush tank toilet with your bidet.
Average Handheld Bidet Price
The average price for a handheld bidet sprayer is $40. A new sprayer can be purchased for as little as $10 to $15 and some of the more expensive models can be as high as $70. Factors that affect the price include quality of materials, included attachments, and warm water capabilities.
Handheld bidets are inexpensive and very effective. These bidets are some of the most primitive second only to the standalone kind (next section).
Being among the least sophisticated, they still offer an advantage or two over even the most sophisticated seats: manual aiming and the ability to point and move the nozzle in any direction. They're also cheap and easy to install.
Some warm water sprayers are on the cheaper side, specifically those that come with a connector that allows you to attach the supply hose to the bathroom faucet. The more expensive warm water sprayers come with special equipment that allows you to install the sprayer into the plumbing.
Most prefer not to use these special hookups because they either require you to have a bidet hose constantly dangling from the faucet in your sink or make permanent alterations to the property. Most consumers want to stop short of drilling holes and tinkering with plumbing, especially renters.
Here are 10 examples:
FOSA Spray Bidet, Hose Holder, and Wall Bracket Set: $9.35
Jaxpety Multi-functional ABS Bathroom Sprayer Set: $9.99
GASLIKE Stainless Steel Handheld Bidet Sprayer: $19.99
ANZA Handheld Sprayer for Toilet: $24.99
Comelite Stainless Steel Press-Free Handheld Bidet: $26.98
FINIGE Handheld Bidet Sprayer for Toilet: $32.98
LUOWAN Hand Held Bidet Sprayer: $39.95
SonTiy Polished Chrome Handheld Sprayer: $59.75
Dillon Hand Held Bidet: $83.99
SOLR3 Hand Held Sprayer: $87.99
How Much Do Standalone Bidets Cost?
The average price for a standalone bidet is $250 and $475 for the horizontal spray (classic) and vertical spray kind, respectively. The classics range between $190 and $390. Vertical spray bidets are usually between $250 and $500.
These have several plumbing requirements not shared by other types of bidets that will need to be added to the price of the bidet if you outsource the installation. Other types of bidets have plumbing requirements but not as many. For more info, check out the article.
The standalone European-style is the OG of bidets. It's where the name came from—the term derived from an old French word for pony. The idea was that you were supposed to straddle the washbasin like a mini horse.
There are both classic and vertical spray standalone bidets.
I say "classic" to indicate that only a horizontal spray is used. It also goes by "over-the-rim" bidet. It's like a small sink where the water pours from a faucet into the basin.
The vertical spray kind looks the same (like the above picture) but has a small water jet in the center of the basin that shoots water up like a fountain. Instead of a spout next to the faucet handles, there's usually a vacuum breaker.
Standalone bidets remain popular in some parts of the world but lacks all the bells and whistles of modern electric bidets.
Though it's uncommon, you can find both for horizontal and vertical spray bidets for exorbitant prices—over $1,000. In getting the averages, I did not take the outliers ($1,000 bidets) into account because I wanted to give you a more accurate price.
Five price examples include:
Swiss Madison St. Tropez Elongated Bidet in White: $188.09
EAGO White Bidet: $244.71
Cadet Floor Mount Bidet: $161.20
Concorde Wall Mount Bidet (Faucet Not Included): $195.99
Amaretto Horizontal Spray Bidet w/ Single Faucet Hole: $609.04
Five vertical spray price examples:
TOTO Piedmont Elongated Bidet for Vertical Spray in Cotton White: $281.88
American Standard Cadet Round Bidet: $388.05
Vitra WJ Wall Mount Bidet: $559.99
TOTO Lloyd Bone Bidet: $633.79
Art. A Tizi Wall Mount Bidet: $859.99
How Much Does a Portable Bidet Cost? Average Travel/Portable Bidet Cost
The average price for a portable travel bidet is $32. The manual squeeze bottle kind can be as low as $5 to $15. Electric models usually range from $45 to $75 with some as high as $114 depending on the retailer. Factors that affect price include brand, retailer, quality, and the size of the reservoir.
Finally, we have portable aka travel bidets. I doubt most reading would be inquiring about portable bidets, but we'll go over these just in case.
Like the kind just discussed above, travel bidets are handheld and used to provide a manual cleanse. The difference is that these are portable. With the exception of one (the MyPortaWash Model-T), they're not attached to a supply hose.
Instead, they have a small motor that pulls water from a reservoir sending it through the nozzle to clean the desired area.
What's cool about these is that you can add warm water to the reservoir and have a cleansing session similar to that offered by electric bidet seats.
They come in a few types:
Squeeze bottle—fully manual spray.
Electric w/small motor
Caps that fit on regular water bottles—these can be electric or non-electric
Ten examples include:
GoSpa Travel Bidet: $10.42
CuloClean Portable Bidet for Toilet or Travel: $13.90
Bio Bidet Portable Travel Unit in Blue: $14.95
Bio Bidet Portable Handheld Travel Set: $29.99
BJPB Portable Peri Bottle Hand Held Bidet: $31.98
Bio Bidet Electric Portable Travel Unit: $37.05
Angel Queen Electric Portable Travel Hand Held Bidet: $40.99
Yosoo Portable Bidet w/ 180° Adjustable Nozzle: $47.39
BLAUX Electric Portable Bidet Sprayer: $69.99
TOTO Travel Handy Washlet YEW350-WH: $76.54
Things That Affect Bidet Price
Besides features offered and whether the unit is electric or non-electric, there are a few other factors that influence the price.
Installation. A certain model might be cheaper than another but require a bit of know-how to install. This is especially true with standalone bidets. In this case, you may have to outsource the work which costs extra.
Parts included (or not included). One thing I noticed is that a lot of standalone bidets come without basic plumbing components. It's not uncommon for them to lack p-traps (something need for installation) and many models require you to purchase faucets and handles separately.
Sales. I made sure to research the prices when there weren't any major sales going on (not during the holiday season, etc.). But, I'm sure you could find lower prices during certain times of the year.
Shipping. Bidets are sold in brick and mortar stores but the selection is usually lacking. But, if you make a purchase online, shipping could be a huge factor especially if you're looking to get a bidet-toilet combo or standalone unit. Then again, some retailers are known for free shipping.
Multi-unit packs. In some cases, travel bidets were slightly more expensive than average but included more than one squeeze bottle.
Average Bidet Price: Conclusion
So, there you have it.
On average, bidets cost $200 to $400 for a good electric seat. Non-electric seats cost $100 to $110. A quality cold-water bidet attachment can be found for $45, and dual temp models go for around $65. The average handheld sprayer is $40.
You don't need to break the bank to get a good thorough clean that's 100 times better than what toilet paper has to offer.
These days most choose to go with an electric seat. They offer all the benefits of the $5K toilets but cost only a fraction. Plus, you can put them on your current toilet with a reversible installation which means they're rental property friendly.
But, if you don't want an electric bidet, there are plenty of other options.
That should do it for now. Thanks for reading.