Today we're looking at the best bidets for apartments. Some models are more intrusive than others (requiring more elaborate installations) but every bidet listed in this article can be used in apartments and other rental properties.
In case you're in a rush, here are our top recommendations
Best Bidet For Apartments
Easy installation options for an apartment include attachments and handheld bidets since they can be installed without replacing anything. Electric bidets are great too since the installation is reversible. For zero installation, consider portable bidets and faucet sprayers that hook to the sink.
Some bidets can be used without any installation (travel-friendly bidets), while others require that you add an attachment to the existing toilet. Finally, for a high-tech bidet, you'll have to swap it out for the existing toilet and re-install the seat when you go to move.
In each case, any change to the existing bathroom is 100% reversible.
Some newcomers to the subject wonder if it's okay to install bidet seats in apartments. I'm here to say that you can. In fact, here's an electric bidet from my last apartment.
Non-electric seats are permitted but less than ideal because they require the installation of an electric seat without offering anything you can't get in a bidet attachment.
These two you can't install.
Easy Installation Options
The LUXE Neo 185 (Posterior and Female Hygiene)
A bidet attachment is installed on an existing toilet without replacing anything. Attachments strike a nice balance between simplicity and convenience. They're easy to install, minimally invasive, and clean your butt for you so that you don't have to reach around with a bidet sprayer to clean manually.
I recommend the LUXE Neo 185 (Amazon link).
LUXE has a line of attachments called Neo bidets, numbered 120, 180, 185, 320, etc.
Neo 185 bidets have self-cleaning wands and are the first of the Neo's to have an extra nozzle for feminine hygiene.
Because the 185 is the same price as the 120 (in my experience), I always recommend folks go with the 185 because the extra nozzle comes in handy for female users. So even if you don't need the front spray feature, a guest might, etc.
Pros:
Front and rear cleansing.
Self-cleaning nozzles.
One of the least expensive bidets.
The round vs elongated distinction doesn't matter, so if you move, you'll almost certainly be able to use the attachment on your next toilet.
Quick installation and you won't need to store/keep track of the existing toilet seat.
Cons:
Cold water cleansing only, which can be uncomfortable depending on your location and the time of year. Warm water non-electric bidets exist, but they're less compatible with apartments since you often have to drill into the furniture when routing the hot water hose.
No warm air dryer, oscillation mode, etc.
The Purrfectzone Handheld Bidet Sprayer
For true minimalists, the Purrfectzone bidet sprayer is the best for renters (Amazon link). When it comes to ease of installation, it's second only to the portable class of bidets.
Of the bidets that require some installation, handheld sprayers are the least intrusive.
Pros:
Simplest installation. If you have to install the bidet at all, it doesn't get any easier than with the Purrfectzone sprayer. So, for those who want to avoid tampering with the current setup any more than necessary while using a non-portable bidet, this is a great option.
Leak-resistant. There are so many flimsy handheld bidets on the market. This is the cheapest category of bidet with some models going for as little as $10. For this reason, they can be quite prone to leaking. The Purrfectzone sprayer is by far the most leak-resistant handheld bidet I've come across.
Made with quality materials. Related to the above point, this model uses high-quality materials, so no cheap chrome-painted plastics. This sprayer is made of stainless steel and brass. Also, the same brand puts out a chrome-plated sprayer of the same quality.
Inexpensive. Even the higher-quality sprayers tend to be quite affordable.
Cons:
It doesn't come with a warm water adapter. However, you should be able to find an adapter that fits the hose. Also, as discussed in a recent article, "cold water bidets" don't necessarily spray cold water. "Unheated" would be more accurate which may or may not be cold depending on the location and time of year.
Manual drying required.
Electric Bidets for Apartments (~30 Minute Reversible Installation)
Electric bidet seats are swapped out for the original toilet seat, and then replaced when the user goes to move apartments.
Pros:
Best bidets overall.
The only options that offer warm water.
The options here offer a warm air dryer, which can eliminate toilet paper use, allowing the bidet to pay for itself.
Oscillating nozzles (w/back-and-forth motion). It's like the difference between washing a car by holding the hose in one place, vs waving the hose from side to side. With non-electric bidets, the user has to rely on body positioning, (shifting around, etc.), to get water where it needs to go.
Cons:
If your next apartment has a toielt with a different bowl shape (e.g., round or elongated), you'll have to swap the bidet out for a new one.
While apartment-friendly, electric bidets take an extra ~1/2 hour to install.
Here's the electric bidet I used in my last apartment:
When I went to move, I just reinstalled the original seat with the original mounting hardware.
The Alpha GX Wave and iX Hybrid Bidet Seats
My go-to entry-level recommendation is called the Alpha GX Wave bidet (affiliate link). It's the budget option in that it has a side panel and lower-tech heater, both of which bring the price down.
Best Budget Option
Premium class is the next level up, and the BEST for the money, by far, is the Alpha iX Hybrid (affiliate link). It's the only premium bidet on the market that's available for an entry-level price.
Best for the Money
Bidet King owns Alpha so I recommend them since their customer support is so good.
For Amazon, you can check their prices here (iX Hybrid) and here (GX Wave) (Amazon links).
Both bidets perform well above average, and iX Hybrid is exceptional. Check out the fake poop test results:
Both bidets have adjustable water pressure and temperature, a heated seat, warm air dryer, massage mode, oscillation mode, and adjustable nozzle position for aiming accuracy, etc.
The iX hybrid has a heater that provides endless warm water. Hybrid heaters use instant heating technology coupled with a heated reservoir.
Both come with great water pressure and a Rear+ setting which can be used for extra-thorough cleansing or as an enema mode for constipation relief.
Features of the GX and GXR
Hybrid water heating systems: the iX provides has an advanced hybrid heater that offers endless warm water. The GX has a lower-tech hybrid heater that runs cool at about 40 seconds, which is about average for basic tank-type heaters.
Adjustable spray temperature, ranging from cold to 104° F.
Adjustable water pressure that puts out 1 L per minute for the GX and 0.7 L/min for the iX.
Warm air dryer w/multiple water temp settings.
Adjustable heated seat, with a seat surface temperature ranging from Off to 104° F.
Both bidets have an in-bowl LED nightlight, but the iX Hybrid light is blue and much brighter overall. The GX light is white and a bit underpowered. Nightlights let you navigate and use the bidet in the dark without having to blind yourself with bathroom lights.
Slam-free seat/lid prevents slamming to save wear and tear.
Quick-release tab for bidet removal/cleaning.
iX Hybrid only: handheld wireless remote so you don't have to look down/to the side to operate the bidet.
GX Wave only: sturdy sittable lid lets you use the toilet as a bathroom chair.
Single 2-in-1 stainless-steel nozzle for rear and feminine hygiene. The nozzle can be adjusted to 5 positions for accurate aiming.
Oscillation spray setting for better coverage and cleaning.
Massage mode that alternates water pressure between soft and strong for a massage-like effect.
Nozzle self-clean function operates automatically before/after each use and on-demand.
Energy-saver mode regulates the water and seat temperatures to reduce power consumption.
iX Hybrid only: child wash mode lets kids press one button to operate the bidet with child-friendly settings in place.
Safety sensor for safe bidet operation.
Alpha JX Electric Bidet Seat
The best apartment-friendly bidet in the lineup is the Alpha JX bidet seat (affiliate link). It's available for round and elongated toilets.
Best for Apartments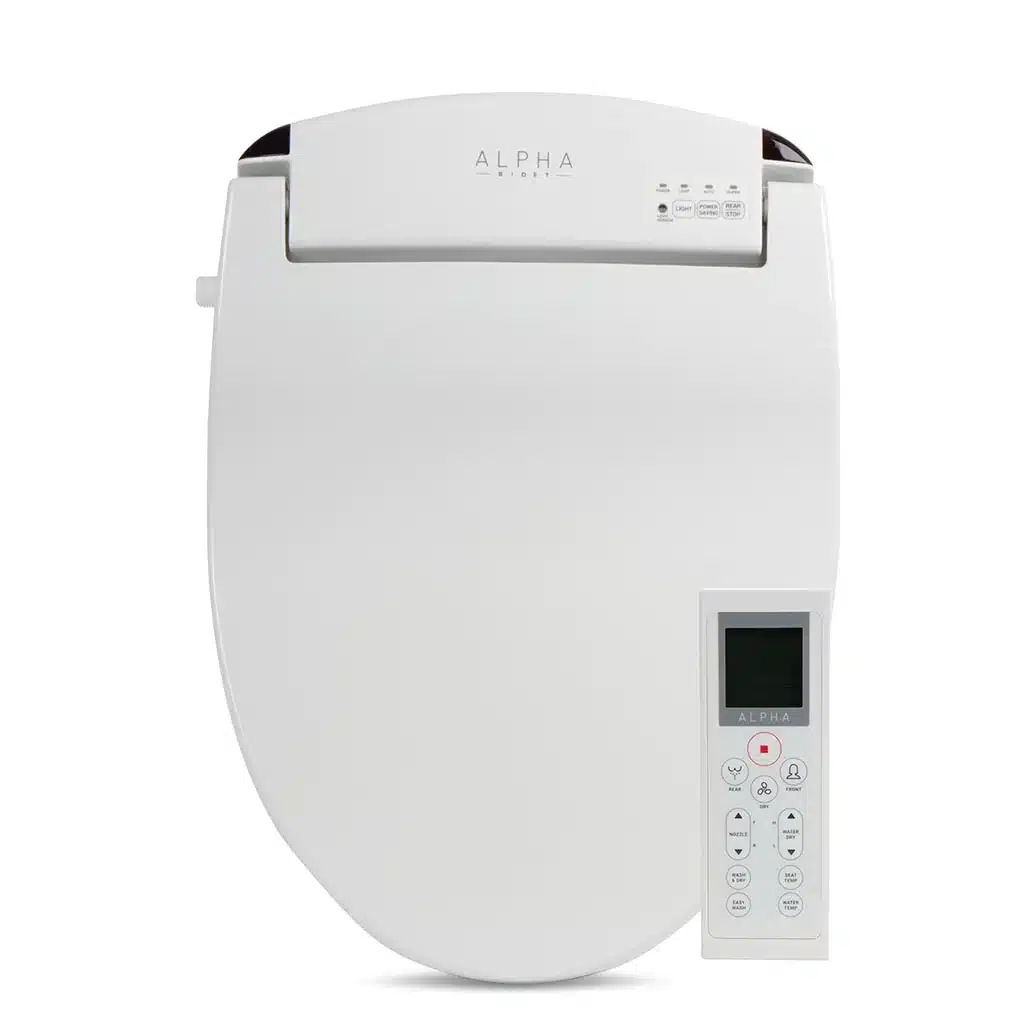 You can check availability on Amazon here (affiliate link).
It's a luxury bidet, so it offers luxury features like endless warm water and an antimicrobial nozzle, a combination hard to come by outside of paying for the ultra-expensive stuff.
Bidets are considered sanitary, but having an antimicrobial nozzle is great for users that want an extra layer of protection against infection–or, at least, the peace of mind that it brings knowing the cleaning wand is extra-resistant to contamination.
For those who share bidets, it's nice to know the water won't run cold when the bidet is used back to back. Also, endless warm cleansing is nice for those who like to spray the front and rear regions in a single session and for folks who like to use the bidet for a makeshift sitz bath.
The JX has two easy wash modes, that allow for one-push bidet operation. It's super convenient for all users since it saves you from having to hit so many buttons every time (it's a hard life, right?). It's like ordering a #1 on the menu instead of specifying every time you want.
It's also great for kids, seniors, and those with physical limitations since the user only has to hit a single button.
Key Features of the Alpha JX
Instantaneous heater for endless warm water. It doesn't rely on a heated reservoir so the warm water never runs out. It's the only bidet in the article with a top-of-the-line water heater.
Ultra-sleek wireless remote w/LCD display. Remotes with LCD screens can do more with fewer buttons.
Automatic self-cleaning nozzle. So, you don't have to remember to use the feature because the nozzle will automatically self-rinse before and after each use.
Antimicrobial nozzle for extra layer of sanitation.
Nozzle oscillation mode for better coverage and more effective cleaning.
Warm air dryer and heated seat with adjustable temperature levels.
Adjustable water pressure with max output of 0.185 gallons or 0.7 L per minute
High-pressure turbo mode for extra-effective cleanse and constipation relief.
Seat and lid: sturdy, sittable lid, slow-close seat and lid, and quick-release tab for periodic bidet cleaning.
White LED nightlight for safe night time time navigation.
Two one-touch easy wash modes for extra convenience. Get an automatic wash or wash + dry session with one push of a button.
Modern minimalistic look with low seat height and few decals or added colors.
The most energy-efficient bidet in the lineup, since the instantaneous heater only draws energy when needed.
Zero Instllation Options
The SmarterFresh Faucet Bidet
If you don't have access to the sink cutoff valves, then another great choices is the SmarterFresh faucet bidet (Amazon link).
It allows you to hook the supply hose straight into the faucet. It's super easy to install but you may end up having to connect it with each use, otherwise, the bidet hose tends to get in the way of other activities at the sink. IME, that's the main drawback with this bidet.
One way around this is to use a dedicated bidet sink which is out of the question for those who have one sink. It's also impractical for two sink bathrooms shared by more than one person.
The MyPortaWash Portable Rechargeable Bidet
Next up is the MyPortaWash bidet (Amazon link).
In the bidet world, the names "portable" and "travel" are often used to mean the same thing. Both names are used to describe a bidet that doesn't need to be hooked up to anything when in use.
When I think of a travel bidet, I usually picture one that can be fit in a small handbag and used in public restrooms, etc. This portable bidet is much different because it's designed like a traditional handheld bidet—it has a spray gun, hose, etc.
Pros:
Zero installation required. For those who don't want to fiddle with any aspect of the current bathroom or want to avoid using tools, this is the bidet to go with. To use it, the only thing that's needed is a reservoir of water. This model actually comes with a collapsible bucket. Any container can be used, but the collapsibility of the included container makes it great for including in luggage.
Doubles as a travel bidet for short-term accommodations like hotels and Airbnb. It is limited as a travel bidet. When people purchase bidets to use on the go, they often want to use them in public bathrooms—at work, school, etc. This kind is not ideal for use anywhere at any time. But, it's great for use in short-term stays and easily fits in luggage.
Can provide warm water. One end of the supply hose has a spray nozzle and the other end is put inside a container of water. So having a warm water cleanse is as simple as putting warm water in the container. Also, if you use a large container (like the one it comes with), it's highly unlikely you'll run out when the bidet is in use.
Water filter. The MyPortaWash bidet comes with a filter. So, no matter where you find yourself using the sprayer, you can rest assured that you're using clean water.
Price. Even though it's battery-powered, this product is average in price for a handheld sprayer.
Cons:
Lower water pressure than most handheld sprayers. Bidet attachments and traditional handheld sprayers work off of the home's water pressure, so they tend to provide the strongest stream. This portable handheld sprayer uses a small motor to send water through the nozzle. Don't get me wrong, the water stream provided by the sprayer is plenty strong enough. The strength of the water jet put out by the electric motor is very impressive especially considering it filters water too.
Honorable Mention
The TOTO Handy Washlet (Another Installation-Free Bidet)
I decided to recommend the MyPortaWash over this particular travel bidet because it (the MyPortaWash ) allows for so much more water to be used. The above portable bidet is also much less expensive.
But the TOTO Handy Washlet (Amazon link) is another good option for those looking to avoid an installation of any kind.
The spray time is limited by the reservoir size which is much smaller than the container included with the MyPortaWash sprayer. But, it's plenty big enough for most bowel movements.
It is a bit pricy for a travel bidet but pretty affordable overall.
Unlike the above travel bidet, this one is compact enough to use anywhere including public restrooms.
Finally, like any portable bidet, it can be filled with warm filtered water.
Bidets You Can't Use In Apartments
These you cannot install in apartments. At least, not under any realistic circumstances. Maybe you could pull it off if you knew the property owner personally and plead with them for long enough.
But overall, you can consider these off-limits.
Incompatible Warm Water Bidets
Some warm water bidets hook up to sinks and showerheads and thus are always rental property-friendly. Some, like the Luxe Neo 320, attach to the shutoff valves beneath the sink. The latter can be compatible but, but often aren't. Again, if not, you don't have to use the warm water connection.
Instead of hooking up to the sink, some sprayers come with special equipment that allows them to be installed directly into the plumbing. These are never compatible with rental properties. For example, the TRUSTMI warm water sprayer comes with extra mounting equipment that's meant to be permanently installed on the vanity.
It's not just the TRUSTMI model, I've seen several. They're high quality but are not great for renters.
Standalone (European-Style) Bidets
The small washbasins located next to toilets that are so common in Europe are known as standalone bidets.
A standalone bidet is basically a small sink. You use the toilet and then transfer to the basin and straddle it facing the valves and faucet.
They either pour water from a faucet or spray it up like a fountain from the bottom of the basin.
They have their own set of bidet plumbing requirements. As a renter, going this route would be like installing an entirely new sink in your apartment's bathroom. So, yeah that would not go over well.
Bidet-Toilet Combos
As mentioned, this is the most expensive category of bidets.
Like standalone bidets, they take up floor space and require permanent and dramatic alterations to the property in which they're installed.