Today's article looks at the best bidets on the market for $499 or less. We'll be focusing on bidets usually found in the $400 to $500, so if you'd like something cheaper, check out the article on best bidets under $400.
The best bidets under $500 include the TOTO C5, Alpha JX, BB-1000, and Brondell S1200. Each offers its own unique benefits: the Alpha JX and Brondell S1200 offer unlimited warm water via tankless heaters while the BB-1000 has the strongest pressure. TOTO offers advanced self-cleaning functions.
Best Bidet Under $500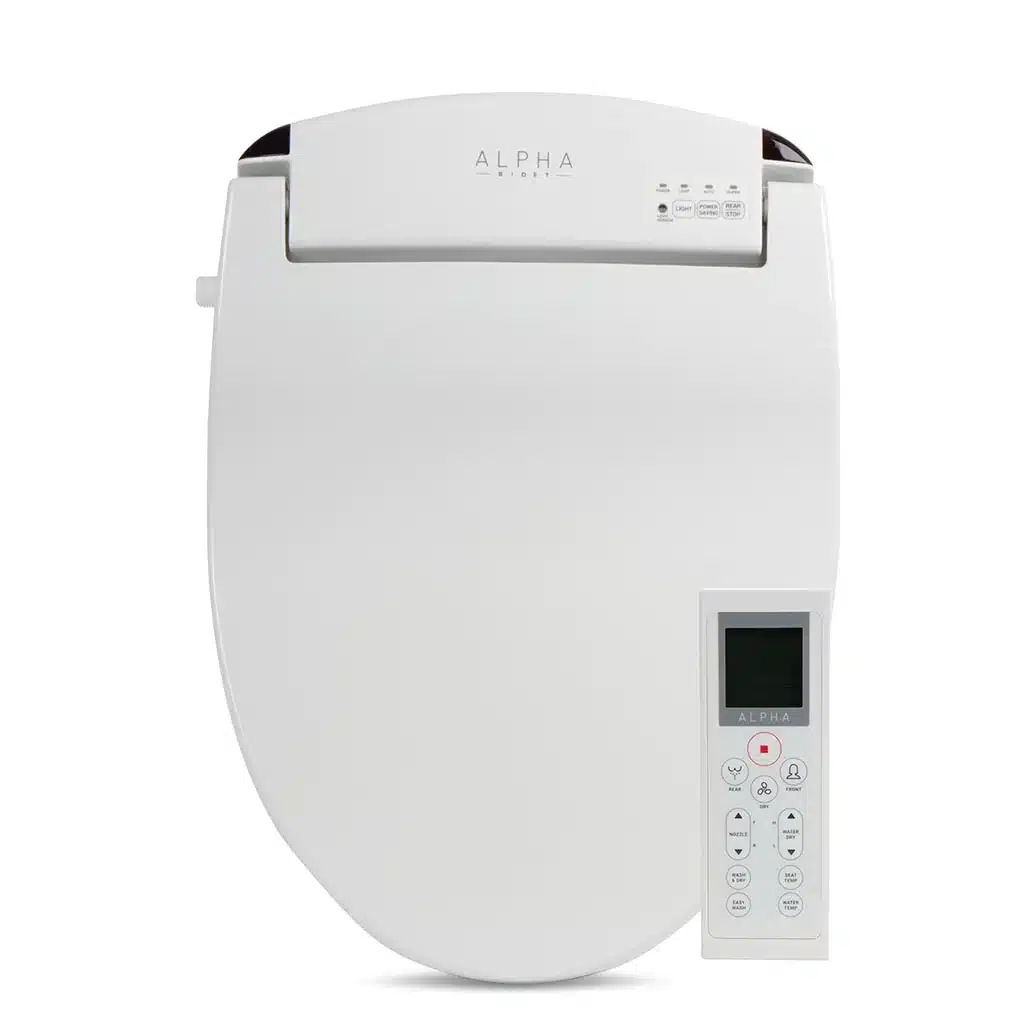 (For a related review: TOTO C5 vs Alpha JX)
So, you have an idea, this table summarizes the features typically available for $500 or less.
$400 or less
Bidets

Between $400 and $500

Over $500
Entry- to mid-level electric bidets.

Warm air dryers and hybrid water heaters) are pretty common after $350.

Of course, non-electric bidets (attachments and seats) and handheld sprayers.



Mid-level (advanced or premium) electric bidets.





Most have warm air dryers and wireless remotes, but basic tank-type heaters are still somewhat common.





Hybrid heaters are easy to find, but tankless heaters are still few and far between.





Some models have air deodorizers and manufacturer-specific (patented) technology (e.g., ewater+ and PREMIST).



At this point, you're dealing with mostly luxury units.

Tankless heaters are much easier to find and warm air dryers are a given.

Luxury features like antimicrobial wands (Brondell Silver solution) and automatic open/close seats (TOTO) are increasingly common.

Note, this is what's usually available. In writing this article, I spent a couple of days ensuring the recommendations resemble the most expensive category (over $500) as much as possible.
Quick Summary
Best heater = tankless. Highest Pressure = greatest output. Least bulky = lowest rear seat height.
So, let's dive in.
The Best Luxury Bidets Under $500
Note, these are advertised as "luxury" but may not fit the definition by some standards.
Alpha JX Electric Bidet Seat
One of the best options for bidets in this price range is the Alpha JX bidet seat. The JX can be found here and here. Especially, for folks who don't mind trying out a newer brand.
It made this list and the previous one (bidets under $400), because it's usually in the neighborhood of $400 but can be found for lower and higher, depending on the retailer or whether it's for an elongated vs round toilet.
It's the only bidet in this article that offers both endless warm water plus an antimicrobial nozzle, a combination hard to come by outside of the more expensive TOTO and Brondell options (e.g., S550e and SWASH 1400).
Key Features of the Alpha JX
Luxury class bidet.
Endless warm water via tankless heater.
Aluminum, antimicrobial nozzle.
Warm air dryer.
High-pressure turbo mode.
Sharp-looking wireless remote with LCD display.
Sturdy, sittable lid.
Available for round and elongated toilets.
Illuminating, white LED nightlight for night time navigation.
Available for elongated and round toilets.
It's a far cry from the TOTO S550e (the best money can buy), but the JX is considered luxury class.
The instantaneous heater provides instant and endless warm water.
The automatic, self-cleaning nozzle resists microbial growth which further helps reduce the risk of infection.
Aluminum isn't inherently antibacterial, but the nozzle, in this case, is treated with antimicrobial additives.
Another feature that makes it stand out from the rest in this article is the sittable lid. Unlike most toilet seats (except for porcelain and wood), Alpha makes their lids extra-sturdy with a much higher weight limit in case you need to sit for resting or clipping toenails, etc.
Every electric Alpha bidet, including the JX, comes with a warm air dryer w/adjustable temp.
The wireless remote is nice and I really like the LCD screen and that it comes with a wall mount.
The high-pressure mode is pretty decent with an output of almost 0.2 gallons per minute, via the "rear +" or turbo mode. But, it's not quite on par with their lower-tier options (the GX, and GXR).
Other Features and Specs
Water Temperature:
Temperature settings include, "Off" (cold tap) and from Low (93° F) to High (104° F).
Endless warm water that never fails you mid-wash.
Water Pressure:
The turbo mode, labeled "rear +" puts out 0.185 gallons or 0.7 L per minute through a narrower opening for more effective posterior cleaning.
Comfort and Convenience:
Auto functions: "one-touch easy wash" and "one-touch wash and dry" making the bidet easier to use, especially for kids and older adults.
Comfortable sit, plenty of front room.
Aesthetics:
There is some labeling in the back of the bidet, unfortunately, and a few design features that make it stand out a little. It's pretty low-profile overall, but not on par with the TOTO C5.
It's relatively sleek at only 5.8" (or ~14.7 cm) tall in the rear, so it's not especially bulky.
Seat and Lid:
Heated seat w/an adjustable temp.
Gentle-close seat/lid for less wear and tear over time.
Quick-release button for removal and cleaning.
Strong, sittable lid.
Cleaning Wand and Spray Capability:
Single, durable aluminum wand for front and rear cleansing.
Oscillating function for wider cleansing, but no pulsing/massage spray mode.
Energy and Water Efficiency:
Power-saving eco to reduce power usage.
Tankless water heaters are the most energy-efficient, only using power when needed—not 24/7 like tank-type heaters.
I do not see aerated spray advertised with this model.
The Brondell SWASH 1200
I wanted to list another option with endless warm water, so another good choice in our price range is the Brondell Swash 1200 (also available on Amazon).
It's marketed as a luxury bidet, but I'm not sure I'd go that far. The S1200 is an odd beast because it offers several luxury features while lacking features common to the most basic bidets.
For example, it has a tankless water heater, which is a luxury feature, but no air dryer—a capability usually included with all but the most entry-level bidets.
It lacks an oscillating nozzle, one of the most common features, but offers an adjustable spray width, which is much less common overall.
Keep in mind, not everyone wants or needs a warm air dryer. They're kind of like those hand dryers in public restrooms—some folks just prefer paper. I, for one, am pretty impatient and typically use a combination of air and paper.
So, even without the dryer, it's a good option for those who want a tankless heater from a brand that's been around for a long time. Alpha makes great bidets, but it's a fairly new manufacturer on the scene and I know some folks prefer sticking with older, more established brands.
Key Features of the Swash 1200
You get instant and unlimited warm water via the instantaneous ceramic core heater.
Simple, easy-to-use wireless remote.
Nightlight.
Sturdy, sittable lid.
Wide spray (spray width settings).
Automatic self-cleaning nozzle.
Available for elongated and round toilets.
The S1200 heats water on demand and never runs cold.
The remote isn't as flashy as some of the others in this article (no LCD screen or anything), but it's probably the most intuitive and thus easy to use, which is great for kids and older adults.
Also, the remote control comes with a magnetic dock and mounting bracket and even has its own energy-saving mode to conserve battery life.
The sittable lid is strong and can hold up to 270 lbs.
Also, like the Alpha JX, the Swash 1200 has a nightlight to help navigate in the dark without blinding the user.
As mentioned above, there's no nozzle oscillating mode, but the S1200 does have a wide spray option.
Oscillating nozzles are used to cover a wider area by spraying back and forth like a sprinkler. Instead of oscillating, the S1200 just lets you choose a wider jet stream to hit a broader region.
Also, adjusting the spray width gives you more control over the water pressure, which essentially acts as a "strong" spray mode when the narrow option is chosen.
Other Features and Specs
Water Temperature:
4 temperature settings for each wash mode including "Off" (cold tap), Low (90° F), Medium (95° F), and High (100° F)
Water Pressure:
The water pressure can be adjusted across 3 strength levels, for both front and rear modes, maxing out at 0.13 gal (or ~0.5 L) per minute.
There's no "strong" wash setting with the S1200. As in, there's nothing labeled "strong", "turbo", or "enema", etc. Instead, you can narrow the spray width to get a more forceful jet stream, or widen it for a gentler cleanse.
Comfort and Convenience:
One-touch auto function activates a pre-set wash and dry cycle.
There are two user presets to save personalized settings for things like water temperature and pressure.
The tankless heater makes for a less sloped contour, which means a more comfortable sitting experience and more room upfront.
The aerated wash uses micro-bubbles to create a softer, gentle water stream for sensitive skin.
Aesthetics:
Being a Brondell, it does have a few decals and colors, and a black sensor at top rear of the seat.
As for shape and size, the S1200 is pretty sleek with a rear height of only 5.7" (~14.5 cm).
Seat and Lid:
Heated seat with four temperature settings.
Gentle/soft-closing seat and lid for slam-free closing.
Easy, quick-release button seat removal and cleaning.
Cleaning Wand and Spray Capability:
Dual, stainless-steel nozzles for regular (posterior) and feminine (front) cleansing.
Both nozzles are adjustable to different positions with seven positions to choose from.
Again, there are width settings, but no oscillation.
Stainless-steel isn't inherently antimicrobial, but Brondell claims the wands resist soiling and bacterial contamination.
Energy and Water Efficiency:
Automatic, energy-saving eco mode.
The aerated wash reduces water consumption by displacing water with air.
Like the Alpha JX, the Swash 1400 water heater uses power during operation—not 24/7 like tank-type heaters. Hence, it's among the most energy-efficient bidets.
Other Great Bidets Under $500
The TOTO C5 Advanced Bidet Seat
Another great option is the TOTO C5 bidet seat (sometimes also available on Amazon). It's one of TOTO's newest bidets, so fewer people tend to know about it. Unfortunately, it's only available for elongated toilets (as of now). It makes the list, in part because it's meant an upgrade to (an improvement from) the TOTO C200, one of the most popular bidets on the market for years.
It's not a luxury bidet (and doesn't claim to be), mostly because the heater is the heated reservoir kind (tank-type). But to make up for the heater, the TOTO C5 has several features typically limited to top-tier bidets like the TOTO S550e–e.g., a self-sanitizing wand (via Ewater+) and a self-cleaning bowl via PREMIST technology.
Key Features of the TOTO C5
Quality and name recognition.
Adjustable water temperature, pressure, and wand position.
Sleek wireless remote with an illuminated touchpad.
Warm air dryer.
Self-cleaning toilet bowl.
Self-sanitizing wand via "Ewater" (electrolyte solution that forms sodium hypochlorite).
Aesthetic, minimalist look.
Air deodorizer.
The Japanese toilet takes the #1 spot for name recognition.
Like most TOTO bidets (all but the A100), the TOTO C5 has a warm air blower to help cut down (or even eliminate) toilet paper use.
As mentioned, the C5 really stands out the most with its unique self-cleaning features:
Self-disinfecting nozzles via Ewater+. Electrolytes in the Ewater+ convert to sodium hypochlorite, a common chemical used to treat water. With each use of the bidet, the nozzle self-rinses with the sanitizing solution, helping keep the nozzle sterilized.
The C5 has a self-cleaning bowl. A sensor detects when the toilet is about to be used, and mists the toilet bowl with Ewater which helps keep poop from sticking to the sides of the toilet bowl.
The TOTO C5 has an air deodorizer at the back of the unit that captures and removes bad odors from the air. Instead of just masking the bad smell, the carbon filter breaks down offending molecules.
Finally, the C5 is a great-looking bidet. It has a really nice, minimalistic look to it just like the C2, but has a remote control instead of a side panel, making it even more low-profile. At only 5.8" (~14.7 cm) in high in the rear, you don't get the really bulky sloping contour common to bidets with tank-type heaters.
Other Features and Specs
Water Temperature:
Temperature settings include "Off" and from 95° F (Low) to 104° F (High).
Limited warm water via tank-type heater. The tank holds a limited amount of water, so It'll need about 15min for a new batch to heat once the tank empties.
Water pressure:
The adjustable water pressure has five settings with an output that ranges from 0.07 to 0.11 gal (or 0.27 to 0.43 L) per minute.
Unfortunately, no strong wash mode exists. The water pressure is good overall, but it may not be enough for those who prefer ultra-strong water pressure (see the BB-1000).
Seat and Lid:
Heated seat w/adjustable temperature.
Quick-release button for easy removal and cleaning.
No sittable lid.
Comfort and Convenience:
Comfortable sit with decent room in the front.
Soft aerated wash is easy on sensitive skin.
Only available for elongated toilets.
No night light, unfortunately.
Cleaning Wand and Spray Capability:
The TOTO C5 has a single, plastic nozzle for front and rear hygiene, that adjusts across 5 different positions.
Oscillating function covers a wider area.
Nozzle pulse setting to provide a massage-like effect.
Energy and Water Efficiency:
You can select an auto energy-saver function to cut down on power consumption when the bidet isn't in use.
Inefficient tank-type water heater will use more power in the long run compared to bidets with hybrid and instantaneous heaters.
Aerated stream provides better water efficiency.
Bio Bidet 1000
Next up, is the Bio Bidet BB-1000 Supreme (also available on Amazon).
This one is available for both elongated and round toilets but the elongated version tends to be more expensive, and potentially out of our target price range.
The BB-1000 is a classic choice for a bidet in the premium category, which is one of the main reasons I listed it in this article.
It has a lot to offer, but the main benefit, IMO, is the water pressure. The BB-1000 is known for having the strongest water pressure of any electric bidet on the market.
Key Features of the BB-1000
Warm air dryer.
Wireless, handheld remote.
Strongest water pressure of any electric bidet on the market.
Air deodorizer.
Self-cleaning wand.
Long track record of user satisfaction.
Available for elongated and round toilets.
The BB-1000 is a mid-level bidet, having features common to both entry-level and advanced bidets.
It has several spray modes, including one meant for relieving constipation–what they call the enema or vortex mode.
Also, the enema mode doubles as an extra-strong spray option. Hence, one of the main perks of this bidet is the water pressure. With a max output of 0.32 gal (1.2L) per minute, the pressure offered by the BB-1000 approaches that of non-electric seats and attachments.
Water pressure is one of the main factors that determine whether you get a complete cleaning (i.e., pass the white glove test) in a single spray session.
Other Features and Specs
Water Temperature:
Unfortunately, it has a tank-type water heater, which means you'll get about a minute of warm water flow. I say unfortunately, because bidets in this price range typically have at least a hybrid heater and some manage tankless heaters.
There are 4 temperature settings to choose from: "Off" (cold tap) and from 37.4°F (Low) to 104° (High). I had to track that number down, it was not in the manual for some reason.
Water Pressure:
Adjustable pressure w/5 settings maxing out at 0.32 gal (or ~ 1.2 L) per minute.
Comfort and Convenience:
There doesn't appear to be an "auto function", as far as being able to hit a single button for a preset wash/dry cycle, but there are auto settings for specific features (massage and oscillation).
The seat does have a pretty high slope to it, which some find uncomfortable. But it doesn't seem to get many complaints related to sitting experience.
No nightlight.
The BB-1000 provides an aerated wash for greater comfort via what they call "bubble infusion" technology (incorporating air bubbles into the water stream). The feminine wash uses this feature by default.
Aesthetics:
No side panel, which always helps the looks.
As mentioned, it is bulky in the back with a rear height of 7.28" (~18.5 cm). Some find bulkier seats to be less attractive.
The BB-1000 is mostly a solid color (white) but it does contain several decals, colors, labels, and has kind of a goofy looking remote (in my opinion).
Seat and Lid:
Heated seat with adjustable temperature range.
A slow, gentle-closing seat and lid.
Quick-release mechanism for convenient removal (for cleaning).
No sittable lid.
Cleaning Wand and Spray Capability:
Single 3-in-1 plastic nozzle for posterior and frontal cleansing. The soft feminine mode uses bubble technology.
The spray wand is adjustable to 5 positions.
Oscillating spray function for wider cleansing and greater coverage.
Pulse capability for massage cleansing.
The enema spray mode uses a patented vortex water stream to relieve constipation. It doesn't provide an actual enema (water injection to into the rectum), but the concentrated stream is effective in penetrating the sphincters to assist with bowel movements.
Easy nozzle replacement mechanism.
Sanitation:
Automatic self-cleaning nozzle that rinses before and after each use.
An air deodorizer that removes up to 90% of foul odors.
Water and Energy Efficiency:
As you'd expect, the BB-1000 has an automatic power save mode.
The bubble infusion technology reduces water use.
Low-efficiency water heater. However, the economy mode is supposed to keep the water temp low in the hours when the bidet is least likely to be in use. Overall, it will use a lot more energy compared to bidets with tankless heaters.