Today's article looks at the best bidets for seniors. In general, bidets offer several benefits for those with limited mobility. But as we'll see, some types of bidets offer more benefits in this area than others.
The best bidet overall for the elderly is an electric seat called the Alpha JX. The Omigo luxury bidet offers a few extra senior-friendly features but costs more. Both bidets package the most important senior-friendly features in a unit that's simple, intuitive, and safe to use.
Best Bidet For Seniors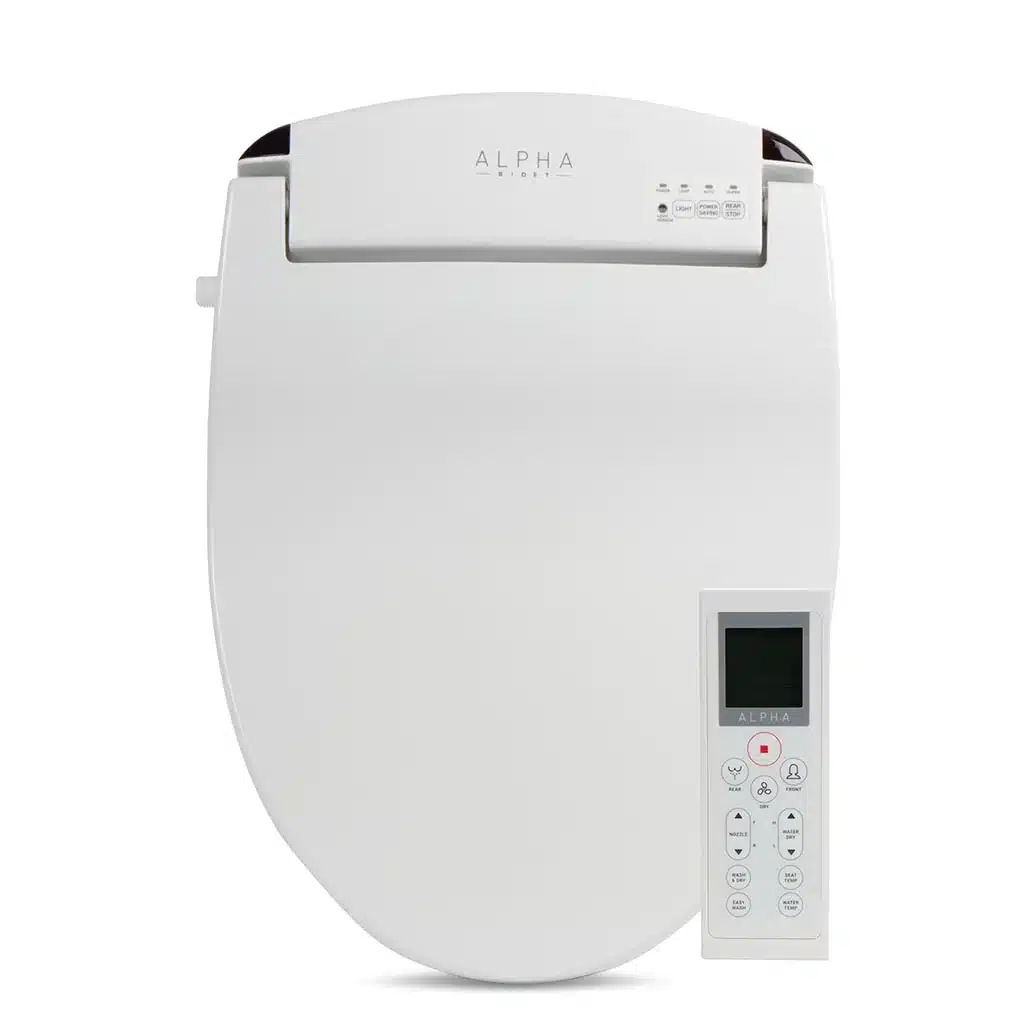 Other great models include the Brondell LE99, the TOTO K300 luxury seat, the BB 1000, and the LUXE Neo 185.
Best Bidets for the Elderly: a Quick Summary Table
The Best Overall Bidets for Seniors
Alpha JX Luxury Bidet (Best for the Money)
First up, is the Alpha JX. It's the best for the money, by far. It has most of the features of the Omigo Luxury bidet, but at a much-reduced price. And it outperforms the Omigo in some categories.
If you like what you see, I recommend getting through Bidet King, since they own and operate Alpha Bidet. They provide great support–which you will need at some point. You can check out their current prices here.
And for a really good price (cheapest anywhere), check for open box specials. These bidets were opened but not used for toileting purposes and thus completely sanitary.
If you prefer Amazon or want to compare prices, you can check their prices here (Amazon link).
Senior-Friendly Features
Super Easy to Use
The JX offers two easy auto modes to make the bidet simple to use for folks of all ages, those who have never used a bidet before, and those who would rather go through choosing specific settings.
Specifically, you get a one-touch Easy Wash and Wash + Dry mode for easy operation. Press a single button to get a generic wash cycle or wash + dry cycle.
From Alpha's website:
An easy to use remote with exclusive one touch wash cycles make the Alpha JX ideal for the elderly, children, and disabled.
The remote isn't overly complicated and doesn't have tons of different settings to choose from. But, there is a feature or two that must be memorized since some functions lack a dedicated button.
Best Performing (Per CNN)
The JX performed best at cleaning in CNN's annual best bidet roundup article (source). In fact, it won the best overall for that year.
The JX performed the best of any bidet I've tested so far. Below is an example of the difference in coverage you can get depending on the bidet.
As mentioned elsewhere in the article, a study at nursing homes found that seniors who used bidets often failed to clean adequately (reference).
Minimal Mobility Needed
Thirst, there is the oscillating nozzle w/adjustable position.
Moving the nozzle back to front covers a wide range.
When a bidet nozzle oscillates, it moves back and forth to provide better coverage. So, the user doesn't have to move around as much to get water to the right places.
Then there's the warm air dryer w/adjustable temperature. With a warm air dryer, the user doesn't have to bother with dabbing dry. Also, with some practice, you can reduce or eliminate toilet paper use which helps save money every month.
The wireless remote was mentioned above. While some bidets in the lineup rely on a side panel, the JX has a wireless remote. With side panels, you have to look down and to the side to operate the bidet.
In contrast, you can hold a remote and view it as closely as you'd like.
Advanced Nozzle Sanitation
While bidet use isn't thought to be unsanitary, it's always nice to have an extra layer of protection against infection. This is especially true as we age since immune function declines over time.
The Alpha JX wand has been treated with antimicrobial nanotechnology. So, it is inherently resistant to microbial growth.
Of course, it also has self-cleaning nozzle functions. One operates automatically, causing the nozzle to self-rinse before and after each use. The other operates on-demand letting you clean the nozzle when you feel the need.
Safety Features
The water heater, seat warmer, and air dryer all have built-in safety devices, like thermostats, thermal fuses, and temperature regulators to keep cleansing and drying from becoming too hot.
For another, the JX has the best nightlight I've seen, helping it illuminate the bathroom more effectively.
Turning on blinding bathroom lights can make it difficult to get back to sleep. So, this feature is useful for folks who make frequent trips to the toilet at night since the bidet can be used in the dark.
Also, the light has an ambient sensor that causes it to turn on and off as needed based on light conditions.
No Cold Water Cleansing
The JX offers endless heated water with full temperature control. The temperature ranges from room temp to 104° F.
The winter months can get very cold in some areas. When there's no water heater, bidet cleansing temperatures can be anywhere from cool to freezing depending on the inlet water temperature of the region.
Electric bidets often only provide about 40 seconds of warm water before spraying cold. Non-electric bidets spray cold water by default.
With the JX, you'll never have to worry about running out of warm water when cleansing.
Use the Toilet as a General-Purpose Seat
People who like to sit in the bathroom for resting or clipping toenails often miss being able to use the toilet as a general-purpose seat when switching to a bidet.
Like most regular plastic toilet seats, most bidets on the market aren't meant for sitting. This bidet is an exception.
Other Great Features
Least expensive luxury bidet on the market. The JX costs about what you'd expect to pay for a premium (mid-tier) bidet despite being luxury class. In fact, some entry-level TOTO bidets have a higher price tag.
Energy savings. The JX has two energy-saving modes and an instant heater that uses about 60% of the energy of most bidets on the market.
Sturdy, aluminum nozzle. Metal nozzles are more durable than those made of plastic and are better able to resist soiling.
Adjustable everything (spray and seat temperatures, water pressure, etc.).
Slow-close seat and lid with quick-release tab. The slow-close hinges on the seat and lid extend the life of the bidet. The quick-release tab makes it easy to remove the bidet for routine maintenance.
Cozy heated seat with adjustable temperature levels.
3-Year warranty. The Alpha JX comes with a longer-than-average warranty that lasts 3 years. TOTO bidets only come with a 1-year warranty.
The Omigo Luxury Bidet Seat w/Remote
Without question, the best overall bidet for seniors is the Omigo bidet seat (Amazon link). It's available for round and elongated toilets.
As far as features, it's a true luxury bidet (Omigo's top-tier option), but costs about half that of other bidets in the luxury class.
It's a great bidet for all age ranges but has several features, especially useful for older adults.
Key Features Useful for Seniors
Nozzle oscillation function and width settings to hit a wider area without having to rock back and forth or use fancy body positioning.
A wireless remote that can be held in the lap and viewed up close.
The remote control has only a few buttons, each of which is large and easy to read.
An auto function and user presets for a quick, one-push operation.
Safety credentials including IAPMO UPC certification and cETL approval.
Built-in safety sensor to keep the bidet from running when it shouldn't (no unwanted surprises).
Self-sterilizing nozzle for max sanitation.
LED nightlight for safe night time bathroom navigation.
A sturdy, sittable lid so users can rest on the toilet when it's not in use.
Luxury features like limitless warm water, a warm air dryer, and deodorizer for removing embarrassing smells.
The Most Effective Clean for Seniors:
Studies in nursing homes have shown that bidets often fail to finish cleaning when users have limited mobility. In such cases, it was found that a single session wasn't enough to finish cleaning after bowel movements (reference).
The experts said the finding was likely explained by the user's inability to shift around (i.e., to get water to the right place), which requires a certain amount of strength and coordination.
When a bidet has an oscillating nozzle, it does the moving for you by hitting a wider area. When something oscillates, it moves side to side (or back and forth) like a sprinkler.
The Omigo nozzles move the nozzle back and forth so the user doesn't have to rock or shift. It also allows for adjusting the spray width providing more control over the coverage area.
Easy to Operate:
Despite these fancy features, the bidet is easy to use because the user or caregiver can save settings for preferences like nozzle oscillation, wash and dry cycle length, water pressure and temperature so that only a single button needs to be pushed.
Great for Limited Mobility and Vision:
Unlike a lot of entry-level electric bidets, the Omigo has a remote control instead of a side panel, so the user doesn't have to look down and to the side to operate the controls.
The wireless remote can be held in the lap or viewed up close if vision is limited. It has intuitive controls with icons instead of small letters for the most important buttons.
The bidet has a warm air dryer so there's no need to dab dry with toilet paper, further reducing physical strain on the user.
The lid is sturdy so the user can sit on the toilet when it's closed, which usually can only be said of toilet seats made of porcelain and wood. This is great for those who like to rest on the toilet seat or use it for clipping toenails.
A Comfortable Experience:
The bidet is relatively non-bulky, with a rear height of only 5.8". Hence, there's not a huge slope from back to front (as with a lot of bidets) making for a more comfortable sitting experience and plenty of room in the front.
The spray wash is aerated with micro-bubbles which creates a gentler, softer wash that's easy on sensitive skin.
Safety Certifications:
The Omigo has a built-in seat safety sensor making it so that skin contact is needed to operate the bidet. (This feature can be toggled off). When activated, this function ensures the bidet won't go buck wild when a button is accidentally pushed.
The Omigo is UPC certified by IAPMO and cETL, US and Canadian institutions that verify whether appliances and fixtures are built to plumbing codes. There are tons of cheap bidets on the market so this is important.
A poorly built bidet may not prevent backflow (causing water contamination) or regulate the water temperature.
Safety Features:
The warm water with the Omigo reaches a maximum of 100° F (37.7° C), which means no scalding.
Non-electric bidets that offer temperature control, source the warm water from under the bathroom sink, which can reach as high as 130° F (54.4° C), a temperature that can scald and cause irritation to sensitive areas.
The LED night light helps nighttime navigation, which can help reduce the risk of falling. It's great for those who have to make several trips to the bathroom at night. My bidet has a cool blue night light and I can't remember the last time I had to blind myself in the middle of the night to get to the toilet.
Sanitation Features:
Good bidet sanitation is important, as seniors lose immune function over time.
The bidet has several advanced sanitation features. The self-rinsing nozzles are automatic so they rinse before and after each use without needing to be reminded.
While self-rinsing nozzles are standard these days, this bidet has self-sanitizing spray wands. An on-demand function, when activated, washes the nozzles with a silver ion solution that acts as a natural antibacterial agent to keep them clean and hygienic.
The stainless-steel material keeps the nozzles free of corrosion.
The Best Value Option for Older Adults
The Brondell LE99 Swash Electronic Bidet Seat
For an option that offers as many of the Omigo features at more of an entry-level price, I'd recommend the Brondell LE99 (Amazon link). It's also available for round and elongated toilets.
Features Useful for Seniors
Nozzle oscillation and width settings for greater coverage and reduced strain on the user. The "Move" function initiates a massaging, oscillating cleanse for greater coverage and maximum comfort.
A wireless remote that can be viewed up close and held in the lap.
User presets for a quick, one-push operation of the bidet.
Safety features like thermal and seat occupied sensors.
Automatic, self-cleaning nozzle for bidet hygiene and sanitation.
LED nightlight for night time bathroom navigation.
A lower seat height of 5.7" (~15.5 cm) for a comfortable sit and sufficient upfront room.
Premium features like extended warm water and warm air dryer.
Soft sitz bath mode for seniors with digestive issues.
With the LE99, you get a lot of the senior-friendly functions of Omigo mentioned above, minus a few of the more costly features like the self-sterilizing nozzle, endless warm water, sittable lid, and deodorizer.
But you still get a warm air dryer and wireless remote. The buttons on the control are a bit smaller as well, but should be fine given the remote can be viewed up close.
Like with the Omigo, the LE99 has user presets, allowing for easy operation with all of the adult's preferred settings for things like temperature, pressure, oscillation, session length, etc.
One interesting feature unique to this bidet (among bidets in this article) is the Sitz Bath Mode, a wash mode that uses warm water and softer pressure over a longer spray session (about 5 minutes) which a lot of folks find useful for conditions like hemorrhoids.
Older adults tend to deal with digestive issues, so this may be useful.
While it doesn't have a tankless heater for endless warm water, the LE99 has a hybrid-type heater that incorporates instantaneous heating technology. On the high setting, the LE99 provides about 40 seconds of warm water at max temp (~100 F), followed by endless heated water (about 90 F).
The Best Budget (Non-Electric) Bidet for Elderly Adults
The LUXE Neo 185 Bidet Attachment
The best non-electric option for older adults is the LUXE Neo 185 (Amazon link). In case you're new to the subject, bidet attachments are fixed to an existing toilet but don't replace anything. Instead of replacing the current seat, they're installed just underneath.
Benefits for Seniors
It's the easiest to use, operating with just two dials.
Ease of installation.
Dual nozzles for posterior and female hygiene.
Self-cleaning nozzles for better sanitation.
Bidet attachments are among the easiest bidets to use when it comes to both convenience and simplicity, as they operate with 1-2 dials.
One dial is for water pressure and the other for nozzle position and on-demand nozzle cleaning.
Attachments are convenient in that they don't require you to manually clean yourself. Handheld sprayers are also non-electric but require the user to manually clean themselves which calls for exertion and mobility/flexibility.
Like with the bidet seats above, the nozzles stay in the toilet bowl which means there's never any need to turn around or reach down as you would with a handheld sprayer.
Unlike some of the more primitive bidet attachments, the nozzles on the Neo 185 remain behind a guard gate so they don't get splashed on (contaminated) when using the toilet.
Unlike the more basic LUXE attachments, the Neo 185 has dual nozzles, the extra being for female hygiene–a feature that isn't standard on non-electric bidets, in general.
Finally, I chose this model in part because it offers self-cleaning nozzles for bidet sanitation.
Installing bidet attachments only requires removing the current seat long enough to attach the bidet over the same bolt holes and re-attach the seat on top.
Unlike the hour it takes to install a bidet seat, this one can be up and running in 10-20 minutes.
Another perk of bidet attachments is that you don't have to worry about the round vs elongated distinction.
Finally, this option is much cheaper. The bidets above are quite affordable for seats of their kind. But bidet attachments like the LUXE 185 cost significantly less than the electric seats.
As for disadvantages…
The main downside is that non-electric bidets require some amount of moving and shifting around on the part of the user to get a thorough clean.
Another drawback is that non-electric bidets typically only offer cold water. Dual-temperature models exist, but they're less common, more difficult to install, and pose the risk of scalding.
Cold water is effective at cleaning but can be uncomfortable and irritating in winter months, especially for those who live in especially cold climates.
Another Great Option for Seniors
The TOTO K300 Luxury Bidet Toilet Seat
The best luxury bidet on the market for seniors is the TOTO K300 luxury bidet seat. It has all the features of the Bio Bidet models but surpasses them in a few important ways.
Key Features for Older Adults
Endless Warm Water
Like most true luxury bidets, the TOTO K300 uses an instantaneous-type water heater that warms the water up on the spot. This allows for a continuous flow of warm water that never runs out as you're washing.
If you'll recall, the Bio Bidets offer extended warm water—more water than most heaters of its type. While it provides more warm water than most reservoir-type heaters, it's not as effective as the instantaneous-type.
Lower Electrical Costs
Not only do the instantaneous-type heaters provide unlimited warm water, but they save on electricity. Lower-tech water heaters common in bidet seats require power 24/7 to keep the water in the reservoir warm. Maintaining the water temp ensures the seat will be ready to use at a moment's notice.
So, instantaneous-type heaters have the added bonus of saving on energy costs. They're only active when in use, making them more efficient and saving money in the long-term.
Better Hygiene
Unlimited warm water provides for the best cleaning possible when it comes to bowel movements. On that note, I will mention that women are advised to avoid overusing this feature on the frontal region because it can dry out the area which can disrupt the natural vaginal flora.
Comfort
The Bio Bidets above are pretty darn comfortable. But some find using a sloped seat to be less than comfortable when sitting for prolonged periods—both BB models have seats that are higher in the back.
Elderly adults often deal with digestive issues that necessitate longer trips to the toilet. If you feel that longer sitting times will be necessary for the user, you may want to think about getting a seat with a flat surface.
The flat surface is made possible by water heating technology. Bidets with reservoir-type water heaters house the small tank in the back of the seat. This ends up making the seat higher in the back causing it to slope down to the front.
Being higher in the rear of the seat, the user has to sit further to the front of the seat which some (but not all) find to be uncomfortable when sitting for long periods.
Deodorization Keeps the Bathroom Smelling Clean
People who deal with digestive issues often leave the bathroom with a strong odor. The strong smell can range from unpleasant to embarrassing if others enter the restroom while the odor is still lingering.
The TOTO K300 has a deodorizing unit. It's a small fan that pulls air through a carbon filter that breaks down smelly molecules. So, it removes the odor instead of masking it.
Other Features Only Offered by Electric Bidets
Like the Bio Bidets, this one comes with all the bells and whistles that consumers look for in an electric bidet.
Precise temperature control, no scalding. The heater warms the water up to between 32 ̊F (0 ̊C) and 104 ̊F (40 ̊C).
A warm air dryer (less chaffing and higher TP savings). The dryer has several different settings so the user can find the most comfortable temperature. The range of temperatures is sufficient to dry but shouldn't cause discomfort—about 95-140 °F (or 35-60 °C)
Precise pressure control.
A retractable self-cleaning wand. Like with the Omigo and the Brondell LE99, the wand will keep itself clean, so it doesn't contaminate the water it comes into contact with.
Oscillating spray pattern and front wash capability. The Bio Bidets have more spray patterns than this model, but the K300 nozzle can oscillate which is the main thing. When something oscillates, it moves back and forth or side-to-side side like a sprinkler. This allows for full coverage, so the adult doesn't need the muscle strength or coordination that a lot of bidets require to get the water where it needs to go. Bidets without wide or oscillating spray patterns require fancy body positioning to get a thorough clean.
Heated seats. As we age, we experience changes in circulation that can lead to becoming more cold-natured over time. The heated seat is extremely comfortable, especially in colder months. They also work well alongside a warm water spray to loosen up the sphincters to help relieve constipation.
The Best Bidet for a Raised Seat
The Bio Bidet BB-1000 Seat
For those who need a bidet that's compatible with a raised toilet seat, I recommend the Bio Bidet BB-1000. Ignore the control arm in the above picture, the BB-1000 has a wireless remote. You can compare prices here and here.
This one is available in both round and elongated, so make sure to get the right one. You'll also need a raised seat that's compatible with it. More on that in a bit.
The models listed so far in this article are great for most seniors but not for those who are currently using a raised toilet. Toilet seats are made for adults with lower strength, limited mobility, and/or balance issues.
Using a raised toilet makes sitting and standing much easier which lowers the risk of injury while providing a better experience overall.
Older adults make up the largest portion of those who struggle with strength, mobility, and balance so the use of raised toilets is common in this group.
Most elevated seats aren't installed on commodes but are simply placed over the existing toilet seat. Putting a raised seat on top of a bidet causes problems because the nozzle no longer sprays water to the right area—it doesn't take those extra few inches into account.
Bidets that attach to toilets (both electric and non-electric) are installed over the toilet's existing bolt holes. So, you'll need a raised seat with bolt holes so that both the seat and bidet can be attached to the toilet with the bidet on top.
Maddick puts out a great raised seat designed for this purpose.
You can check the latest prices for the Maddick hinged elevated seat here (Amazon link).
The Maddick seat is only compatible with certain bidet models so that's where the Bio Bidet BB1000 comes in. Of all the bidets that the Maddick seat is designed to go with, the BB1000 is the right choice. It offers the features useful for elderly adults without costing an arm and a leg.
What to Look for in a Bidet for Seniors
When purchasing a bidet as a senior (or for a senior if you're a caretaker), there are a few functions to look for:
Features useful for those with limited mobility: anything that lessens the muscular strength, coordination, flexibility needed to operate the bidet.
Simplicity: no one wants to have to learn to operate a control panel that looks like something out of a flight simulator. This is especially true for older adults who may have a hard time reading small labels or those who would prefer not to have to learn to use one more complicated gadget.
Safety: aspects that enhance the overall safety of using the bidet and lower the risk of infection or falling.
While some of the bidets listed in this article are better than others, each one checks the three boxes for the qualities just mentioned.
The Best Bidets for the Elderly: Conclusion
So, those are the best bidets on the market for older adults.
There is a small learning curve when it comes to modern bidet seats. If you're a caretaker of an older adult, make sure they get the hang of how to use the bidet before leaving them to operate it on their own. This will mean supervising the first couple of times to ensure everything goes smoothly.
It can be really frustrating to hit the wrong button and find things spraying and blowing all over the place, so having someone there to help can make the process more pleasant.
Overall, even the most high-tech seats are much simpler to operate than the average entertainment system. So, the initial training period shouldn't take long.
Thanks for reading.